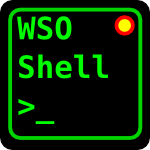 WSO Shell provides the most powerful command tool and file manager for Joomla! admins
[wp_eStore_buy_now:product_id:7:end]


native!
Introducing WSO Shell
I first met WSO Shell on a hacked site: WSO shell is a typical hacker's tool, primarily used by evil hackers to access a remote server through a complete and powerful shell and file manager. WSO Shell, is an awesome piece of software, contained in a single PHP file it offers a long list of extremely useful functions, all of which are run with the privileges of the web server user:
a full featured filemanager (copy, rename, edit, delete, up/download etc.)
a console that can run commands from the underlying operating system
a SQL console
a PHP console
string tools with tons of pre-configured commands
network analysis tools
detailed system information
penetration testing tools
WSO Command Shell is an extremely powerful tool and if misused can seriously damage your system. With great power comes great responsibility: please be careful.
WSO Shell Joomla! plugin screenshots
A must-have for Joomla! admins
WSO Shell Joomla! plugin is not for end users, its powerful features make it a dangerous tool if not used with care, for this reason it is only accessible through the control panel for Super Administrator users. With the power of WSO Shell at your command, you can easily analyze your system and perform administrative tasks with the privileges of the web server user After it saved my day a few times I decided to pack it in a Joomla! plugin, to ease installation, expecially when FTP is not an option.
A big warning about security
It's worth saying a few words about the versions of WSO Shell you can find on the internet, at the time of writing, the first result from a Google search leads to https://github.com/orbweb/PHP-SHELL-WSO/downloads this download contains malicious code around line 1000 which automatically sends an email with server details to an american address. GitHub has been contacted with details and I expect that this download will be eventually removed. Obviously, the first thing I did before starting to use WSO Shell was to inspect the script line by line and carefully remove all possible vulnerabilities. That said, WSO Shell Joomla! plugin allows Joomla! administrators to exploit the power of the underlying operating system running commands and testing for possible attacks and for this reason it is an extremely useful security tool.
Download
WSO Shell Joomla! plugin is open source software, distributed under AGPL software license and it is also free software, where "free" means that you can do (almost) whatever you want with this software but it does not mean that it costs nothing. We distribute the component only in bundle with paid 12 month support and update service that costs 19 €. To receive a copy of WSO Shell Joomla! plugin you are kindly requested to pay 19 €, using the buttons located at the top or at the bottom of this page. You will receive a regular invoice at the end of the month. After a successful payment,  an email with the download link will be automatically sent to you PayPal's account email address. The money you give us will be used to further develop WSO Shell Joomla! plugin and to provide professional assistance and support to those that will need it. Together with 12 months support you will receive software updates for the same period ot time, that means that you can pay just once and use the software forever in how many Joomla installations you like. Please use the PayPal link at the top of this page, after a successful payment a download link will be sent you automatically. Installation is easy: just install WSO Shell as a standard Joomla! plugin and activate it through the Joomla! control panel, a new icon will appear in the main view of Joomla! control panel (for Super Administrators only!). Thank you for supporting WSO Shell Joomla! plugin project!
Refund policy
We have a 7 days refund policy (one week), if you are not satisfied with WSO Shell Joomla! plugin you can ask for a refund within 7 days from the purchase and you will get a full refund.