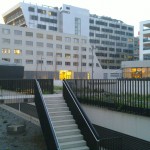 Just back from the QGIS Hackfest! This time, the event took place within the OSGEO Code Sprint, it was great to meet all the guys working on the other projects.
The event was hosted by the City of Vienna in their new ICT-branch buildings, everything went out smoothly thanks to the exceptional organization of Stefan Meißl and his colleagues (thanks again Stefan!).
I've been working on the new plugins website and partially on C++ code of QGIS Mapserver, the new plugins website looks nice and after a troublesome deployment in the docker container I've been able to squash a few bugs and enjoy the meeting presentations and the social life of the event.
QGIS is gaining more and more audience and consensus, the future of Open Source GIS is bright and the people around it are simply exceptional, thanks all (& the sponsors) for making this happen and see you in Essen!
More photos are vailable  on the blog.