KMLMapServer trasforma la tua installazione UMN MapServer in un flessibile server di dati KML per la visualizzazione diretta in Google Earth.
Obbiettivi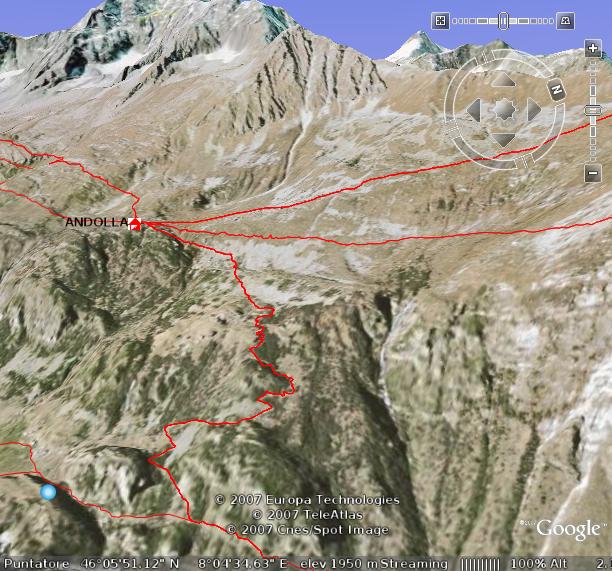 Lo scopo di questo progetto è aggiungere la capacità di servire dati in formato KML a una qualsiasi installazione di UMN MapServer. Il tutto funziona senza alcuna configurazione aggiuntiva o con modifiche minimali, anche a seconda del grado di personalizzazione che si desidera ottenere. In linea di massima, è sufficiente installare il pacchetto in una directory del proprio server web e il sistema funzionerà senza alcun bisogno di configurazione aggiuntiva. In caso di bisogno, i parametri di configurazione sono impostati tramite metadati nel mapfile di MapServer, non c'è quindi necessità di imparare una nuova sintassi e di mantenere un ulteriore file di configurazione. Il grande vantaggio della generazione dinamica dei layer basata su un server di mappe, è che questi possono venire aggiornati in tempo reale, senza rischio di distribuire dati obsoleti.
Storia
Questo progetto nasce dalla constatazione che sebbene avessimo diversi server di mappe attivi, questi erano per lo più relativi ad aree montane e ad itinerari escursionistici che si sarebbero enormemente avvantaggiati della possibilità di una vista tridimensionale. Perché quindi non sfruttare il motore gratuito di Google Earth per visualizzare i dati provenienti da MapServer?
Requisiti tecnici

Per utilizzare KMLMapServer occorre
una installazione funzionante di UMN MapServer, configurata come server WMS se si desidera servire anche dati raster
PHP5 con php_mapscript
Come funziona
Il server di layer

KMLMapServer è stato pensato con in mente il modello dei webservice OGC WFS, laddove possibile, i parametri sono gli stessi e hanno lo stesso significato. Normalmente, il servizio KMLMapServer viene invocato con una chiamata URL in stile CGI, una chiamata tipica potrebbe essere: http://www.myserver.com/kmlservice.php?map=/maps/mapfile.map&typename=roads,rivers In questo esempio i layer "roads" e "rivers" del mapfile /maps/mapfile.map sono generati e spediti al browser. Non è necessario specificare uno o più nomi di layer, se non viene specificato nessun layer, il servizio restituice un "folder" contenente tutti i layer del mapfile, sotto forma di collegamenti di rete (Network Links nel gergo di Google Earth).
Il server di icone

Il server di icone è un pacchetto indipendente che permette la creazione di immagini PNG per i simboli usati nei layer di tipo POINT. È accessibile tramite lo stesso URL del servizio principale, il valore del parametro "request" è in questo caso "icon". Per alcuni esempi di icone generate in questo modo, vedete l'immagine sopra (clic per allargare).
Caratteristiche
output KML e KMZ (compresso)
Semplice sistema di cache per ridurre il carico del server nei grandi file vettoriali
Server di simboli (icone) indipendente per i layer di punti
Finestrelle informative (fumetti) personalizzabili tramite template con sostituzione di attributi
Supporto (limitato) agli stili e alle classi di MapServer per la creazione di mappe tematiche
Supporto (limitato) ai filtri in stile OGC sulle singole richieste di layer vettoriali
Supporto ai raster tramite collegamenti di rete al server WMS

Per usufruire appieno di alcune di queste caratteristiche, potrebbe essere necessario intervenire sulla configurazione del mapfile.
Problemi noti e limitazioni
Stili e classi:

viene considerato solo l'ultimo stile per ciascuna classe
solo i seguenti parametri sono analizzati: color, outlinecolor, backgroundcolor, symbol, size e width
l'espressione usata per la classificazione deve essere una espressione regolare

Poligoni:

i poligoni con riempimento non vengono correttamente disegnati sulle aree montane (questo è probabilmente un problema legato a Google Earth e non a KMLMapServer), il riempimento dei poligoni è quindi disabilitato
i confini dei poligoni non seguono correttamente i confini del terreno, un define('TREAT_POLY_AS_LINE', true) ne provoca la conversione in linee
Configurazione
La maggior parte delle caratteristiche di KMLMapSever è pienamente funzionante senza alcuna configurazione aggiuntiva. La configurazione avviene sia tramite parametri passati in stile CGI nella query string sia tramite metadati nel mapfile.
CGI-PARAMETERS
| Name | Type | Required | Values | Notes |
| --- | --- | --- | --- | --- |
| request | string | no | kml kmz icon | request type (OGC WFS like) |
| map | string | yes | | path to mapfile |
| typename | string (can be a CSV list) | no | | layer(s) to be served, if empty all layers are served as network links |
| filter | string | no | | well formed XML OGC filter, is active only when a single layer is requested |
| bbox | string | no | | standard bbox (not yet implemented) |
| encoding | string | no | | mapfile and attributes encoding, default to ISO-8859-1 |
METADATA
KMLMapServer re-use most of existing OGC metadata taken from the LAYER section of the mafile, and define a few of its own. None of them are required, but if you want to serve rasters you already need them in order to have a working WMS MapServer installation. Note for rasters: add EPSG:4326 to WMS_SRS metadata on all mapfile layers, otherwise WMS will not work with Google Earth.
| Name | Meaning | Layer type | Notes |
| --- | --- | --- | --- |
| RESULT_FIELDS | The column from which to take the name for the feature | Vector | Defaults to the first column, the name is displayed in Google Earth Balloons and table of contents |
| DESCRIPTION_TEMPLATE | Custom Balloons template | Vector | If present, this is used for placemark features Balloons. Parameters surrounded by "%" char are substituted with real values from the corresponding field for the feature |
| BALLOON_TEMPLATE | Custom balloon (tooltip) template | Vector | If present, this is used to build the tooltip. HTML formatting is possible, $[name] ans $[description] are substituted. |
| DESCRIPTION OWS_TITLE WFS_TITLEWMS_TITLE | Layer description | All | All those metadata are searched (in this order) to get a layer description |
| KML_CACHE | Cache life | Vector | Number of seconds after which the cache will expire for a particular layer, if empty or not exists, the cache will be disabled for that layer. Defaults to 0 (cache disabled) |
| KML_SKIP | Skip this layer | All | Do not serve this layer, default to false |
Licenza
Licenza: AGPL. Servizi aggiuntivi quali:
installazione
configurazione
assistenza
collaudo
risoluzione dei problemi
sono disponibili a tariffe altamente concorrenziali. Contattateci per qualsiasi domanda su KMLMapServer: vai alla pagina dei contatti.
Download
http://sourceforge.net/projects/kmlmapserver/