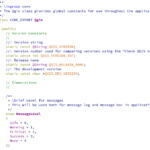 Mastering a constantly growing list of mainstream open source technologies, our services range from feasibility studies and analysis to software development, assistance and training or education.
CMS:

Joomla! / Joomla FAP
WordPress
Django / GeoDjango Framework

WebGIS

GeoEXT
QGIS WebClient & QGIS Server
OpenLayers
TileStache
P.mapper
MapServer
MapStorer

Database

PostgreSQL / PostGIS
MySQL

Desktop GIS
We also provide system administration services on Linux platform to SMEs and individuals, and organize public events in order to spread and promote open source ideals.
Products internally developed and supported
We internally developed a few products that we sell and support directly or through our partners network.